Music is one of the 5 disciplines within the Expressive Arts Area of Learning in the curriculum. All schools in Wales will support their pupils to experience and progress in music.
Taking music or singing lessons can enhance your child's development, not only by gaining a new skill, but through giving them confidence and opportunities to express themselves. This will have a positive impact on their health and well-being. Signing up for lessons is just the start. Whether your child has just started lessons at primary school or is adjusting to a new routine after moving to secondary school, there are some simple things you can do to help.
Getting started
Every school will be offered a First Experience of playing an instrument through accessing the National Plan for Music Education programme. Ask your child's school what they have been offered, and in which year group.
See if your school is having a live or an online Live Music Experience. These are a great way for children to see different instruments live.
Some schools will be working with us to offer a music steps programme, Camau Cerdd. This programme allows students to progress on from a First Experience in an affordable, large group format. This is free of charge for low-income families.
Ask your school if there is an opportunity to try the different instruments on offer. Visiting teachers are often happy to do 'taster sessions' or you can contact us to attend a music ensemble concert or rehearsal. If your school doesn't offer these opportunities, please contact us.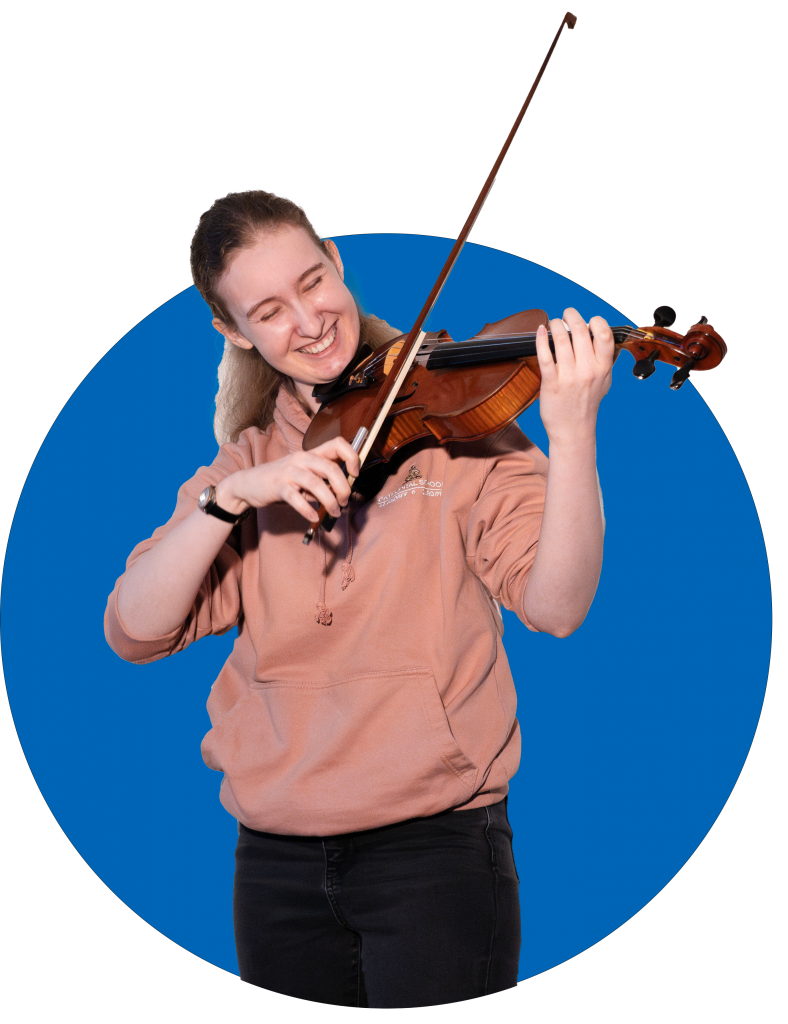 If you decide to sign up for tuition and your child has been allocated a teacher, they will contact you directly about your child's lesson date, time and any changes.
Primary schools and settings
In the first week of the new school year, most schools will send home letters about music tuition. Ask your child if they have been given anything – just in case they forget.
Now and then you will be asked to buy things like music books and instrument accessories. These extras are very important so your child can get the most out of their lessons.
Playing at home is the most important part of learning an instrument. Try to get a routine going as soon as possible. Many schools have their own band, and CF Music organises out of school opportunities to play with other young musicians. Encourage your child to join a group to explore making music with others.
High schools and settings
As part of the National Plan for Music Education, every high school will be offered a Music Pathway project. The project engages with young people to:
support emotional health and wellbeing,
consider the music industry as a career option, or
enhance progression to GCSE or BTEC music.
Secondary schools and settings offer lots of new opportunities for young musicians to join choirs, bands, orchestras, and groups. These are a great way to meet people and make new friends as well as improve musical skills. Encourage your child to get involved!
Most students will have a timetable for their instrumental lesson, with a different time each week so they don't miss the same school lessons. This can be quite confusing at first so give plenty of help and support.
You will be able to communicate directly with the teacher through the parent portal. Messages are encrypted and secure and allow us to monitor all communication centrally. Teachers use this platform to write notes for practice and to pass on messages to parents – and hope that parents will also use it to record home practice as well as any comments or questions. You can help your child by logging in and looking at this every week.